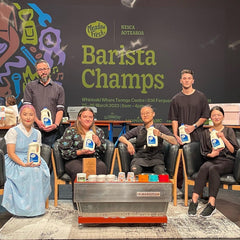 I recently dusted off the competition tamper, ironed my apron, found a super crazy coffee and after 5-years decided to get back into competing in the New Zealand Barista Championship. Since my last time competing in 2017, the barista champs has always been on my mind every year and getting back on stage was always a goal of mine. This year I took the plunge and I got back into competing making the decision at the start of 2023. I actually found a coffee in 2022 with plans to enter that year which never eventuated. In 2023, the coffee was only getting better with age and after taking a holiday over New Year's I came back refreshed and ready to focus on another challenge. Previous Experience Competing This year was my 4th year competing and every single year of competition has been a huge learning curve. My first year of competition was an introduction to what the championship was about. I was new to the coffee industry, passionate but lacking experience. The second year enabled me to understand the playing field, source a coffee with a story and create good presentation skills to gain a place in the semi-finals. My third year of competition made me hungry for a place in the finals and was my most creative year competing. I designed a device to maintain moisture and humidity of my coffee beans in which I presented a theme about coffee consistency which earned my 4th place. Each year has been a new learning experience not just for the competition scene but for coffee, hospitality and presentation skills that are applied in my personal and professional life.
Why I compete?

Most competitor's including myself say we compete every year for the experience and the constant growth of our development as a coffee professional. I feel this reason alone is a great reason for anyone that wants to take their career to next level. Every year of competition is an enormous amount of growth and learning. Not only competition/stage growth but overall coffee knowledge and practical skills growth that can be directly or indirectly applied to our day jobs. For myself, some examples are the way I describe and talk about coffee and some of the training methods I apply on my students. The competition scene forces you to go to extreme levels to achieve perfection not only with your chosen coffee but with every other variable in between. Another big reason is the people and connections we all get to experience. Every year of competition equals new connections, new friends and sometimes even new (happy usually) tears along the way. The coffee community is small in New Zealand and filled with passionate, knowledgeable and fun people making things like competitions a joy to be part of. Every year is filled with an amazing group of competitors, volunteers and judges whom make the journey more fun, more interesting and include more laughs.
This year I created a routine with less technical innovation compared to my concept in 2017 but I placed more emphasis on my coffee and my message through my presentation. I sourced a coffee through Coffee Tech and ended up choosing a natural processed coffee from Geisha Village in Ethiopia. This particular coffee was special due to its innovative fermentation method that uses a juice as the main ingredient in the fermentation made up of a complete separate lot of coffee cherry's. I was extremely happy with the sensory components of this coffee and found distinctive flavours of fermented pineapple and guava. My routine heavily discussed fermentation and the unique process of this coffee and I also included the concept of hospitality and the ability for us as barista's to offer a new sensory experience as a means for progressing the industry. During the preliminary round I finished my routine on a high note and apart from walking into (and knocking over) my dump box on stage I was happy with my performance. During the finals routine I slipped on a few technical points but I had more confidence in my coffee. I ended up walking away from the championship with 2nd place which is a great achievement and accomplishment.
Congratulations to our New Zealand Barista Champion Honoka Kawashima who will be representing NZ on the world stage in 2024. Honoka is an outstanding representative for New Zealand and it's been an honour to be competing with such talent.
Thanks… My first thanks goes out to my customer's and my team. Without you I wouldn't have coffee to sell and a team to work with. My customer's and my team allows me to live my dream of making and working with coffee on an daily basis. Hanna Terramoto and Alan Zuo from Coffee Tech have been my friend, inspiration and guidance not just through this competition but through a big part of my coffee journey in general. I also owe thanks to my family whom have helped and supported me along the way.