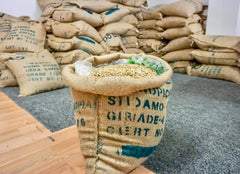 Late last year we landed a shared container of fresh new harvests from Ethiopia.  The coffee is from the Sidamo and Guji region of Ethiopia and consists of four different naturally processed coffee's and three washed.
Ethiopian coffee is renowned for their bright flavour profile, often with a floral acidity, complexity and sweetness.  Ethiopia places a large role in our coffee selection and is used in many of our blends such as our popular Meebz Blend. 
This container was sourced from the Tracon Coffee FDT Program.  FDT stands for Farmer Direct Traceability which is a program that focuses on the traceability from farm to cup utilising GPS coordination.  The cherry's from each individual farm are identified by codes which passes the fermentation, washing, drying and other processes.  The rest of the production process is carried out individually and the final product is promoted with the farmer's name easily tracked.
Tracon is the first company in Ethiopia that has started the FDT program with more than 300 FDT program members.  Each farm has their own traceability system that allows the growers to track the produce from the field to the buyer.  One of the goals of the FDT program is to create relationships between the coffee farmer and the end consumer.  This helps to acknowledge the individual farmers and award them.  This tremendous step of traceability is a win-win situation for both farmers and the end consumer as its increased accountability and flow of information rewards the farmers for good coffee.
A large proportion of this harvest will be used in our blends this year with the remainder to be roasted for filter.  We're thrilled to land this container as coffee from Ethiopia has been difficult to source due to many current issues in the country including a civil war.  Ethiopia plays an important role in many of our blends and its unique characteristics make it one of our favourite coffee growing regions.  One of our picks from this container is an awarding winning Ethiopian from the Cup Of Excellence.  This spectacular coffee will be available near the end of 2022 and we can't wait to share it with you.