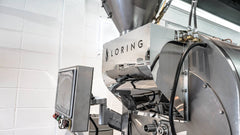 A lot has changed over the last year including our new site on Symonds Street in Auckland City. Our roaster lineup has also changed with the introduction of two brand-new roaster machines. We're proud to introduce a Loring S35 Kestrel to our lineup and we have also recently introduced a Coffee Tech FZ94 lab roaster.  Both roasters operate different to the traditional gas burner machines and are an eco-friendlier alternative with lower emissions. The introduction of these new machines gives us more control and flexibility with our roasts and efficiency of our production process.
The Loring S35 Kestrel utilizes a patented design to recirculate the hot air in a closed system instead of passing it through. This reduces the gas consumption by up to 80% compared to traditional style gas roasters.  It also eliminates the need for an external afterburner and eliminates the smoke in the roasting process.  Not only does the Loring provide a solution to a cleaner environment and a smaller carbon footprint, the finished product (coffee) is also cleaner in its taste offering more control over flavour profiles and consistency.

This roaster is used for all of our production roasts which means it is our primary roaster.  We roast each coffee as a separate origin meaning that with our blends, each origin is roasted separately and then blended together post roast to create our desired flavour profile.  This roaster significantly improves our workflow with innovative tools such as a green bean loader and vacuum, efficient cooling tray and automatic profiling software.  Most roasters are adjusted on the fly while roasting, however the Loring gives us the ability to set recipes and profiles and automate the roast according to the initial settings.  Its technology allows us to analayse more data of each roast which gives us a fine degree of control to manipulate the flavour in our coffee.

Our other new roaster added to the lineup is our Coffee Tech FZ94 EVO lab roaster.  This roaster has replaced our IKAWA Sample Roaster and gives us the ability to roast as little as 100g all the way up to 2.4kg per batch.  This roaster is 100% electric meaning there is no gas required at all.  It operates using an electrical driven heat modulator.  Named a lab roaster, we have complete control over every variable of the roast including heat, drum speed, airflow giving us the ability to manipulate the style of roast we require.

This roaster will be used as a sample roaster, quality control and for roasting our high-end coffee selections from our Superlative coffee menu.  The roasting capacity makes this machine extremely versatile giving us the ability to roast for cupping samples in small lots.

Our trusty Giesen coffee roaster still sits pretty in our Milford shop and although it is no longer used for production roasting it still gets the occasional bout of love.  This machine is often used for smaller roasts in lower quantities.  Over the last 7-years since Meebz started we have frequently changed roasting machines and we have now come to a point where we are happy with our setup and we feel that we are now working with our 'dream team'.