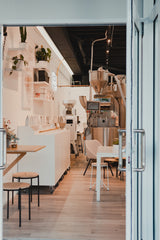 We're proud to announce that we have opened up a new space located at the top of Auckland City in Eden Terrace.  Our new premises goes in hand with the arrival of a brand new coffee roaster. 
The new space started as an idea while exploring options of upgrading our existing coffee roaster.  Over the last year, we felt our roasting operations could be more efficient and started exploring different ideas.  We decided that not only did we require a roaster with more capacity but also a smaller roaster would bring us tremendous value experimenting further with high end exotic coffees.  The aim with a new premises was to create a space that would allow us to comfortably exercise our systems to roast coffee, pack and label coffee, quality control, development and cupping.  Although our new premises is not large by any means, we have designed it in a way that it flows with dedicated areas and machinery to achieve our objectives.  Our focus is still to remain a boutique business by roasting high quality and exciting coffee in small batches for our café partners and retail customers.
Our new space will operate as an espresso bar, bean store, takeaway coffee outlet and as our main roastery.
We'll cover more detail in a separate blog post of our new roaster but after countless discussions and research we chose to opt for a US based Loring Smart Roast coffee roaster.  Our space also welcomes a colour sorter.  This is an AI self-learning machine with full-colour imaging to sort any defects found in roasted coffee.  After coffee passes through the colour sorter it is sent to an automatic packer that weighs and fills our bags and then finally sent to a heat sealer with vacuum and nitrogen packing technology.  We also house our other Quality Control tools including a moisture and density meter, water activity meter, sample roaster and colour analyser.
The site took us a long 9-months to build with delays in freight for our roaster and severe delays in completing part of the fitout.  As a small business owner, I carried out all of the work that I could with the help of my family and team.  This included most of the design.
The design retains the simplistic, minimal, white look of Meebz but brings in some industrial aspects with some touches of nature with the use of greenery.  The lighting helps our white walls and furniture pop thanks for a set of LED strips lined around the corner of the ceilings.  The counter features five dangling edison bulbs that gives some yellow contrast to the white counter.  We chose to stick a neon sign on the wall besides our roaster that reads 'Are We Awake Yet'.  We picked this sign for its subtle humour along with its scope for a vast range of meanings.
The small space is split into three different areas that include espresso bar and seating, roasting and packing and a storage and office room.  Each area is carefully designed to make effective use of the small space and to segregate the work areas.  Our Milford shop did not have this segregation which proved to be difficult as our volume increased. 
 As an espresso bar, we were lucky enough to design this space from scratch so picked a long-elongated counter that our La Marzocco Strada sits on.  Besides the Strada we have a gravimetric Mythos Two with a built in PUQ press for our house blend along with a white EK43 for filter and single origin espresso.  With a long counter, we have a dedicated area for pour-over brews with V60's sitting on stands with scales. 
We built a serving window into the window glazing that will allow us to serve takeaway coffee for people on the fly.
As parking is limited, our espresso bar will serve the local businesses, residents and foot traffic within its vicinity.  Our short hours are designed to allow us to close the doors after lunch to continue with our roasting operations.  For our latest opening hours please click here and we look forward to having a coffee with you at our new space.