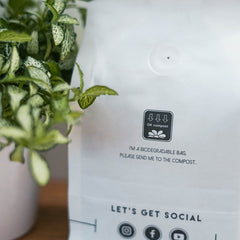 By now you have probably got your hands on one of our latest compostable coffee bags and we're proud to announce that we have completed the print line of this new packaging.
Coffee packaging has proven to be a more difficult option to produce compostable bags primarily due to the one-way valves fitted and bag durability.  Our compostable bags are proudly 100% PLA based meaning the valve fitted to the bag is also compostable.
Compostable packaging is a step forward in our efforts to be a more sustainable business to reduce the impact of our business practices on the environment along with a conscious effort in business ethics.  For a number of years now all our cups and lids are made of PLA meaning they are produced with no plastic and instead use sources such as wood chips, straw, vegetable fats/oils and plant material.  Our environmental conscious efforts extend to our courier bags, label roll paper, paperless accounting system and programs to recycle our coffee sacks and coffee grinds.
Our new print line is for our smaller 250g and 500g sized bags.  Our 1kg bags remain as Kraft paper and this is because of durability issues with the larger bags.  Our manufacture advised that the PLA bags were not as durable and rip easier due to the softer material of PLA.  Our new compostable packaging accounts for over 95% of our smaller bags that leave our doors but we have stocked some of our older foil bags for situations that require it such as overseas orders.
Our new packaging is better for the environment and contains no plastic but does come with its inherent downsides.  We're proud that we managed to remove 100% of the plastic on the bag but this does leave us with a bag that is not resealable.  The compostable bags can be opened by tearing the seam but do not have a ziptie to reseal.  We advise closing the bag by using a peg or a tool for resealing packaging that we sell in-store or online here.  Alternatively, another option is to transfer the coffee into a sealed container such as a snap-lock container with an airtight seal or our vacuum containers that we stock here.
We have also noticed that these bags are not as durable as the plastic option for obvious reasons.  Occasionally we have had situations where the bags tear a lot easier but this is generally when they are being sent through the courier.  We feel that the environmental benefits of our new packaging outweigh their downsides.
The packaging is certified compostable by OK COMPOST EN13432.  This certification is labelled and guaranteed as biodegradable in an industrial composting plant.  This certification applies to all components of the packaging including the components, inks and additives.  More information on the OK COMPOST certification can be found here.