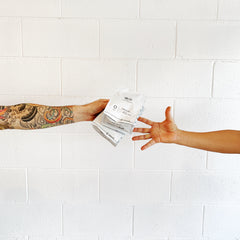 We've been getting asked for years how come we only reward loyalty for our hot beverages served in-store and not beans.  We've promised that we will develop a system and it's finally here!
The majority of you guy's are loyal customers and we recognize your loyalty from those of you that walk into the door to those of you who purchase online.  As a local NZ coffee roaster we sincerely thank you for your business!  I can promise you that we are continually doing the best we can to roast the best coffee and to ensure you get an enjoyable experience shopping with us.
We have implemented a new loyalty system both on our website AND in our retail store.  The loyalty system is linked to your account.  If you have created an account online then you can use this account and link it to our new loyalty program (this is done automatically). 
This loyalty system is completely separate from hot beverages and works on a points basis.  As you purchase beans, points will be added to your account.  You can use these points similar to money and the points can be redeemed to deduct your total bill next time.
How To Access Your Loyalty Points In-Store
If you are a frequent visitor in our shop, then you just need to ask us to create an account using your name and we can automatically link this to our loyalty program.  If you shop online and, in our shop, your account is linked and all your points will be kept on the same account.
How To Access Your Loyalty Points Online
Step 1
Go to our website and click on the 'loyalty points' button on the bottom right hand corner of the screen.
Step 2
If you already have an account, click 'sign in' and login using your details.
If you are new, click 'join now' and you can create an account.
Step 3
You are ready to go.  Your loyalty points are synced with your account.  Shop as you normally will on our website and once you have completed checkout your points will be added.  To check on your points, click on the 'loyalty points' tab as you did in step 1.
Redeeming Your Points
Online
Follow our Instagram post on how to redeem your points online by clicking here.


In-Store
We welcome you the option to redeem your points in-store.  To do this just walk into our Milford retail store and give us the e-mail your account is associated with and we will load up your points and make the deductions at checkout.
We hope you enjoy using our new loyalty system and if you have any questions feel free to sing out.
Recurring Subscription
Unfortunately our system does not allow you to claim rewards on a recurring subscription.  When you have a subscription you still receive reward points but these need to be redeemed for a one-time purchase on our website OR can be redeemed in-store in Milford.

A tip for those on recurring subscriptions is to 'skip' a delivery of your subscription using your login within your subscription portal and then making a one-off purchase for the coffee you desire.