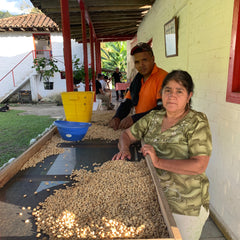 Back in February/March pre-lockdown times we released a Colombian coffee named 'Yellow Bourbon'.  This was a coffee we were very proud to roast and serve due to its high grade, exclusivity and the amount of care with the labour involved in farming and processing this coffee which was 100% of the yellow bourbon variety.  The Yellow Bourbon also undergone a new technique named 'Extended Fermentation (EF)'.  We discussed EF and fermentation in detail here and many other farmers in Colombia were experimenting with this technique of processing their harvest. 
 We're proud to present another EF coffee and this particular coffee is from a farmer named Diofanor Ruiz.  The farm Finca La Divisa, resonates close to me as it is from one of the farm's I visited during my origin trip to Colombia last year.  This was a highlight of the trip as Diofanor's farm was positioned high above a mountain in an area named Buenavista.  Long and windy roads let to a spectacular view of mountains covered in fruit and coffee plantation.  We were lucky enough to have a sunny day and climbed the land on the farm amongst coffee tree's.  Upon our return Diofanor even brewed us a coffee while doing a presentation of the particular coffee we were tasting and discussing the success of this new EF processing method.  Although his presentation was in Spanish we were lucky enough to have a Cofinet representative to translate.
This coffee is roasted for best use in filter and recommend using the brew ratio 15:1.  We brew this using a V60 with 15g of ground coffee in and 225g of water at 90 degrees.