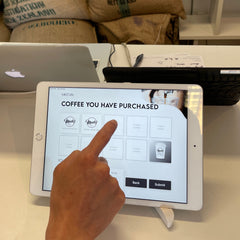 Earlier this year, we announced our new loyalty scheme for buying beans based on a points system.  As with most café's, we also offer loyalty cards for hot beverage/coffee purchases within our espresso bar.  In the past, these have traditionally been in the form of a stamp card that you keep in your wallet and accumulate a stamp for each coffee purchased, finally receiving a free coffee after nine coffees have been purchased. 
With our effort to go 'paperless' where we can, we are now proud to introduce our own app that collects your stamps/purchases within our iPad in our espresso bar.  This method means that you will never forget your loyalty card and it also saves weight in your wallet from accumulating all those loyalty cards.  It also means that you don't have to download any app or use your own device, we provide the iPad and the system in our shop.  Your details such as a username or e-mail are saved into a database which is personalised to you (and/or your family).  The system also gives you the option to accumulate and bank your free coffee while you continue to accumulate more points
How To Use the In-store App
This is the standby screen that you see on the iPad while it is placed on the counter.
1. After tapping on the screen to get started, enter a username or e-mail address.  This username or e-mail is used for your account.
2. Next, to receive a stamp select the 'register purchase' button.
3. Now add a virtual stamp to your account by clicking on the blank square boxes.  If you have purchased more than one coffee, you can click on multiple blank square box.  Now click 'submit' and you are all done!
BANK: Click here to view your free coffee's.  You can store them in your account while you accumulate more free stamps.
Café Partner? 
If you are one of our café partners using Meebz we are proud to share this platform with you.  Help us to go 'paperless' and provide your customers with an innovative approach to loyalty.  Your customer database is exclusive to your café and your app can also be personalized with your own branding and cafe name.
All you need is an iPad and a retail stand and say goodbye to paper loyalty cards.