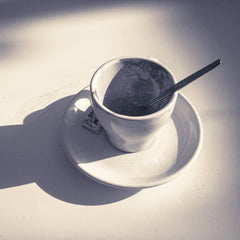 A Coffee Roaster's Perspective
As a coffee roaster, I've spoken to many café owners over the last few days about the COVID-19 lockdown.  There is a lot of uncertainty, stress and worry for many of us that run a business or in paid employment.  Unlike many other businesses, café staff are unable to operate without being present in the café and 'working from home' doesn't help cashflow to pay the bills.  I've summarised a few idea's that may help some café owners to use this time to re-open after lockdown as a stronger and more appealing business.
Here's The Five Tips:
Reach Out To Your Database
This can be in the form of e-mail, social media or blog posts.  Touch base with your customers to let them know you are ok and what you are up to during this time.  Take this opportunity to thank them for their loyalty and let them know you are using this time to make improvements to your operation. This small reminder will give your customers a sense of emotional connection to your cafe and will no doubt make them miss your company, food and coffee.
Vouchers
The lockdown gives us zero options to bring in cash with no takeaways or ability to sell food and coffee.  Cashfow is tough at this time and selling vouchers could be used as a means of getting a small injection into the bank account.  The vouchers could coincide with other changes planned during this time such as offers from the new menu or a catering offer to their workplace.  Many of your loyal customers would love to support you during this time and a voucher could be a great means of allowing them to do so while they also get something to look forward to when you re-open.  Vouchers would need to be sold online and it is important to affirm your audience that your business will re-open with a strong operation and not on the brink of liquidation.
Plan plan plan…
Remember that business plan you created to get finance?  Have you ever looked at it since?  Now is a great time to review your café operation and set a plan moving forward.  This planning could entail budgeting, financial, operational or marketing/branding.
Although times are tough, it is still important to have a vision or goal for your café and doing so will help guide a path for success.
Some questions that could help you set a plan:
Do I have a budget and have I been achieving these figures?
Does my café have a clear brand identity throughout? This must be coherent from the signage to the interior fit-out to your social media presence?
Does my café have an opportunity for add-ons such as catering, home delivery, pre-made meals?
Are my cost of goods consistent month-by-month? If not, why?
Are my staff working in an efficient manner, could they be adding value in our quiet times?
Get Your Staff to Work from Home
Didn't I say that café staff can't work from home?
I understand this isn't exactly possible when you operate a café or restaurant but following on from our previous tip, your staff can use this time from home to add extra value to your business.  Here's some examples:
Your head barista could create a training plan for other baristas to ensure all staff that jump behind the machine are familiar with the equipment, brew ratios and different coffee offerings you may have.
The head chef could work on your new Winter menu, carry out a costs analysis on menu or cabinet items or get creative with new food items.
Each of your staff may have particular talents that could be of value to your business or brand image at home. Can any of your staff use photoshop to design the layout of your new menu?  Another staff member may belong to a club that is looking for a caterer?
Brainstorm ideas with your staff. Now is a great time to get feedback from your staff of their ideas on how to improve the café moving forward.  Your staff have difference experience in your business than you do and may be able to provide some valuable insight for ideas and/or improvements.
Revise Your Food Safety Standards
We all know how strict New Zealand food safety standards have become and upcoming inspections have caused us many sleepless nights.  The new food safety standards come with a lot of paper work; a complete book of paperwork for most cafes.  Now is a great time to ensure this paper work is up-to-date and fix those issues that caused you to just scrape by during your last inspection.
Some of these ideas may not apply to your style of business or café.  I understand these are not complete solutions or remedy's during this crisis but are tips to help us mitigate our losses and set a plan to move forward stronger for the future.  If you have any other ideas or have something to share please do get in touch.