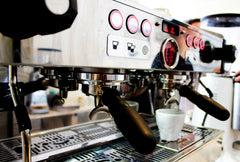 What equipment and accessories do I require to setup my café for making espresso coffee?  A common question asked by many new café owners.
Here's a quick run-down of the basic equipment and accessories required to get you started making espresso.
Equipment
Espresso machine (of course!).

Water filter and associated lines for espresso machine.

Associated power supply for espresso machine *see tip below.

Grinder.

Refrigerator (for milk).
Accessories
Tamper: to suit your espresso machine. Most commercial espresso machines use a 58mm tamper.

Tamp mat.

Milk thermometer.

2x powder shakers for chocolate and cinnamon sprinkles.

Timer: for timing espresso shots when calibrating machine.

Measuring glass or small scales: for calibrating machine.

Milk jugs: we recommend the following.

2x 350ml jugs.

3x 600ml jugs.

1x 1l jug.
Cleaning
Espresso machine cleaning powder.

Espresso machine cleaning brush and scour pad.

2x small paint brushes (for cleaning coffee grinds).

Microfiber cloths.
*Standard household and commercial wall plugs are 10-amp. Due to the large current that an espresso machine draws this requires a 20-amp (most 2-group) or 32-amp (most 3-group) power plug. This requires the work of an electrician to re-wire the power supply and install a new plug socket. It is wise to install a 32-amp power plug as this will also accommodate a 20-amp power plug.