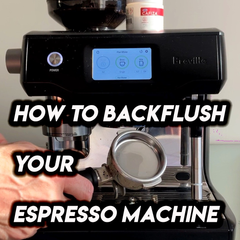 How to clean your coffee machine - in this video I will demonstrate the basic back flushing technique to clean your espresso machine at home. Backflushing your espresso machine is the most important cleaning procedure to maintain the operating condition and to prevent foul tasting coffee. This method is the same for cafes and baristas wanting to clean your coffee machine.
STEP 1 – Flush through water with the blind porta-filter inserted.
STEP 2 – Add ¼ teaspoon of chemicals
STEP 3 – Backflush 3x sets with chemicals. Leave the porta-filter inserted for the 3x sets.
STEP 4 – Use the brush to clean the coffee machine through the group head.
STEP 5 – Flush the group head until the water is clear. Important: don't backflush your coffee machine for any longer than 10-seconds at a time.

Seasoning Your Espresso Machine: make a shot of coffee and throw this shot out before making yourself a cup of coffee.

This procedure is the basic method on how to clean your coffee machine and should be carried out every other day or at least once per week for your household espresso machine. For commercial espresso machines we recommend this procedure to be carried out everyday after service. Learning how to clean your coffee machine is easy following these steps and will reduce foul tasting coffee and build-up.