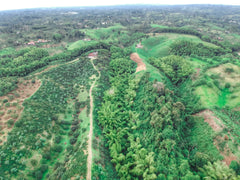 An origin trip is when the coffee roaster visits the farmer to develop an appreciation and understanding for the growing and processing of coffee.  I've recently returned from an origin trip in South America - Colombia.  This trip was hosted by Cofinet.
Cofinet is a family owned business run by brothers Carlos and Felippe.  Their business model focuses on producing and sourcing fine and premium grade coffee from Colombia.  Their vast experience in the coffee industry has allowed them to invent and continually innovate new techniques and procedures to improve quality of their coffee and the farmers they work with.  In doing so they have set a very high benchmark for Colombian specialty coffee thus improving the lives of many farmers in Colombia.  This initiative has created a win-win situation for all involved from the farmers, roasters and the end coffee consumer.  
Our itinerary in Colombia was non-stop as we visited several coffee farms per day learning about the process and lives of the farmers involved in our coffee.  We visited several city's throughout Colombia while experiencing a large range of coffee, landscapes, roads and attempts of speaking Spanish.
Although our trip was predominantly specialty coffee focused, we managed to gain an understanding from many ends of the spectrum in Colombia.  This opportunity allowed us to better understand our coffee by giving us the knowledge and tools to implement this data into our coffee roasting back home.
This trip has given us an added appreciation for coffee and our craft.  Moving forward, this experience will change the way we look at coffee and also continually make us conscious of our buying decisions when choosing coffee for our blends and single origin offering.